A viral pet pooch optical illusion image was circulated widely on social media. The image baffled the viewers, as it was quite difficult to figure out the real dog hidden among the fake pet pooches inside the picture.
This image is just another example of an optical illusion that appears to be different from different perspectives. The change in color and patterns in the image plays with our minds and makes us see things differently. These kinds of Optical illusions are part of physical, physiological, and cognitive illusions, which explain how the human brain perceives a thing.
So, let's see this optical illusion of a room filled with fake dogs where a real dog is hidden inside the picture.
Can You Spot a Cat Hidden in the Bedroom?
Optical Illusion Challenge: Where is the Real Dog Hiding in This Image?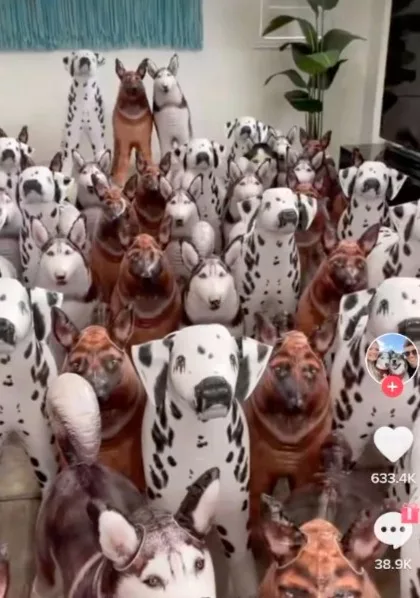 A TikTok video from 'The Husky Fam' challenged viewers to spot the real dog among the group of fake huskies and Dalmatians. One viewer, overwhelmed by the abundance of canine cuteness, joked, "Go to the eye doctor." The family, known for their heartwarming animal-centric content, frequently shares adorable videos from their farm on platforms like YouTube and Instagram.
Optical Illusion: Spot the alligator hidden in the pond
In this TikTok challenge, 'The Husky Fam' hid their real dog, Sky, among the fake inflatable huskies and Dalmatians. One viewer asked, "Why do you have so many blow-up dogs?" Another viewer asked, "The real question is how did you get your dog to stand still in all of that". So, let's look at the image from afar and take on the challenge of finding the real dog in the optical illusion image.
Did You Pass the Challenge? Were You able to See the Real Dog in the Image?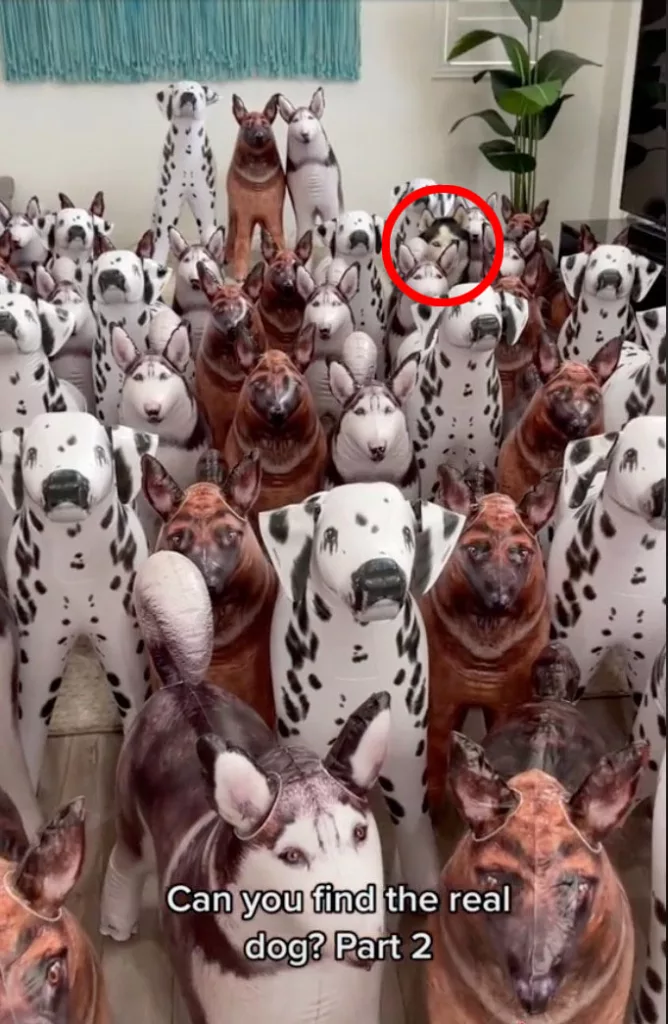 The optical illusion has left Internet users intrigued, as it is quite tricky to find the real dog among the fake ones in the picture. So, if you have still not found the real dog, then look at the fake counterparts of the husky and pooch dogs. The real husky was sitting patiently near the plant.
How Many Different Colored Fuel Pumps Do You See?
Now, you will be able to see the real dogs among the fake huskies and Dalmatians.
This is how the optical illusion works. It not only creates an illusion in your mind but also deceives your vision, leading you to have different perceptions of an image. This means it can deceive your brain and eyes at the same time. It makes it difficult to spot the real animal or object among the fake ones. So tell us, were you able to spot the real husky in this optical illusion?
Can you spot a Cat hiding In the Messy Bedroom in 7 seconds?